Silver Coins are collectible items from Boktai: The Sun is in Your Hand. There are a total of 30 coins that can be found in green chests within dungeons however. Some of them are invisible and require a see-all nut or a scan grenade to see them. Collecting all 30 of them gives you the option to enter a sound test in the main menu.
Locations
Edit
[F2] To the left of the staircase, a invisible chest in the middle of two columns.
To the south in a medium room with two Ghouls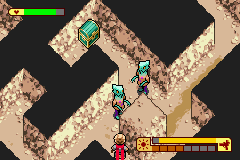 On the ground floor of the penultimate room
In the Clock Puzzle room, enter on the small room to the right.